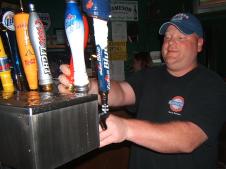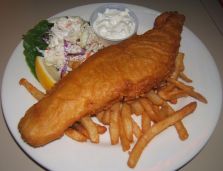 Uncle Joe's Grill & Sports Bar: The Place to Watch a Game
Cuisine: American
Yankees and Red Sox; Michigan and Ohio State; Patriots and Colts. A list of things that don't go together? Not at Uncle Joe's Grill & Sports Bar, a place where fans off all kinds and all teams are welcome to kick back with a beer and watch the game while eating some of the best burgers in town. Uncle Joe's might be as close to Norman Rockwell America as Ithaca gets; liberal college professors saddle up at the bar and drink next to local cops and firemen; in the know college students watch the games while little league teams celebrate their latest win. Toddlers run around during dinner while bar patrons debate what is the best local sport: Cornell basketball or Big Red hockey. Good to be an Ithacan and good to be at Uncle Joe's.
Uncle Joe's Grill & Sports Bar Menu
Or Visit:
www.UncleJoesSportsBar.com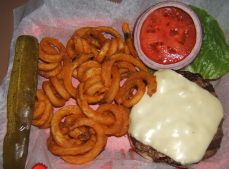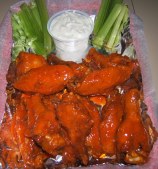 The Food: 4 out of 5
Burgers pick of the menu these hand packed 1/2 pounders are sure to please any burger fan; big juicy and cooked just right, the curly fries are crisp and crunchy and they come with a real pickle slice!
Wings big meaty and tasty; you can order them from mild to local sauce guru Ralph hot, we found the medium to be perfect for dipping with blue cheese dressing.
Beer Battered Fish available as a sandwich or dinner (pictured) comes with a honking big piece of haddock that is flaky and moist inside while the beer batter outside is crispy and crunchy; both served with Uncle Joe's classic fries and coleslaw. At $9.99 this might be the best dinner deal in town.

The Experience: 5 out of 5

17 TVs and all the sports channels and packages means you can watch almost any game that's being broadcast
Pro Football Fan? Uncle Joe's has the Pro Football package so they have all the games; on Sunday's each TV is labeled with the game that is showing so fans know where to sit.
Two pool tables, two regulation dart boards and a game room round out the family and late-night fun.

The Price: $

Uncle Joe's is ridiculously light on the wallet: nothing on the menu costs more than $10
$6.25 for a burger and fries; 1/2 dozen wings are $4.99
Even the beer prices are good!

Uncle Joe's Grill & Sports Bar is located at 302 W. Green St, Ithaca, NY

Reviewed August, 2007

Uncle Joe's Grill & Sports Bar Menu

Or Visit: www.UncleJoesSportsBar.com