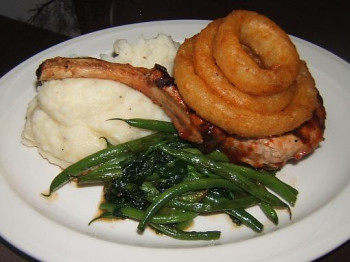 East Shore Cafe Ithaca's Newest Hidden Gem
Cuisine: Contemporary American
East Shore Cafe, Ithaca's newest restaurant, located where Dempsey's used to be, is a wonderful hidden gem. The West side of the lake has Hazelnut Kitchen in Trumansburg, now the East side has East Shore Cafe. Really good comfort food with a flair. East Shore Cafe has great sauces, fair prices and they let the food speak for itself as they are light on the salt. As soon as we got in our car to leave we were already excitedly planning our next trip to East Shore Cafe.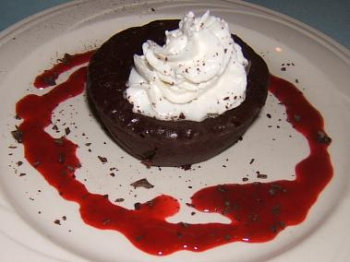 The Food:
Maryland Lump Crab Cakes are broiled not fried, eating them is a fantastic texture trip: soft and moist with sweet crab flavor throughout because they are loaded with crab - unlike any crab cakes I have had in town; remoulade sauce was outstanding. Highly recommended.
Cherry Chipotle Pork Chop pork is thick, juicy and grilled perfectly with a sauce that is warm and dreamy; greens were al dente crisp, mashed potatoes are fluffy and feathery light.
French Onion Soup broth is complex yet warm and comforting; perfectly browned provolone creates a special soup. Deeelicious is what our 4yr old said after trying it.
Field Green Salad: organic field greens with candied pecans and blue cheese, slices of granny smith apples with a maple port vinaigrette dressing; it was the dressing and combination of flavors that caused my fork to continually revisit this salad until it was gone.
Desserts, like everything else we tried, were great; all are made in house and cost just $5. Our 4 yr old squealed when the desserts came to our table.

The Price:

Affordable; Apps $5-$8, entrees $14 - $22, sandwiches $8-$10
Value Tip: For $2 add a house salad or a cup of soup to any entree
Comfort Food Specials: On Monday, Tuesday and Wednesday nights a choice of 2-3 Comfort Food specials are offered at prices below $12

East Shore Cafe is located at 1638 East Shore Drive, Ithaca, NY
607-277-3433

Reviewed October, 2008

Map and Directions to East Shore Cafe:


View Larger Map