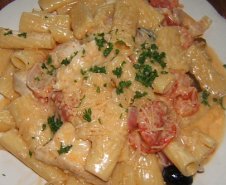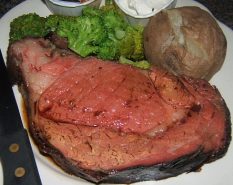 Rogue's Harbor Inn: Wholesome and Hearty
Cuisine: American
Rogue's Harbor Inn offers several dining venues. The main restaurant is an authentic 19th century roadhouse with original woodwork and tin ceilings that serves up a hearty fare of satisfying comfort food. Right next door is the Rogue Harbor Pub, same menu but more informal and a lot closer to the strong spirits and draft beer. Each area has a different feel and both are family friendly. The outside dining offers amazing sunset views as each table faces west. Rogue's Harbor Inn comfort food comes with pleasingly large portions, jaw-dropping soups and a signature Prime Rib that is worth the drive from Ithaca.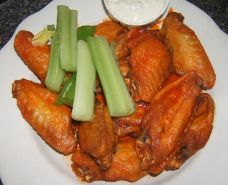 The Food:
Prime Rib massive and satisfying with a subtle au jous sauce + you can customize the amount - highly recommended
Chicken Riggies melted cheese, large chunks of chicken, with a lovely warmth from the pepperoni, peppers and onions all served over rigatoni pasta.
Soup of the day Florentine + clam chowder were special; hearty and loaded with either chicken or clams.
Wild Berry Cobbler tastes like summer with strawberries, blackberries & blueberries in a short cake - served warm and covered with ice cream and whipped cream.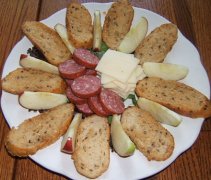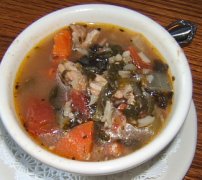 The Experience:
It feels like stepping back in time while still having a modern menu
High Speed Wifi throughout
Menu has strong emphasis on local New York ingredients
The soups are pleasingly good and come free with each entree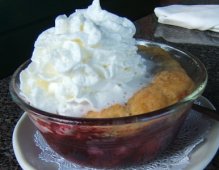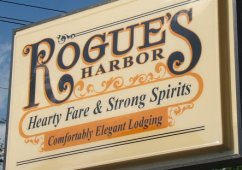 The Price:
Apps range from $2.50 - $9.00; entrees start at $9 and peak at $24, with most being under $15
The Soups of the Day start at $2.50 and top out at $3.50 - a really good deal
Inside Tip Daily Special - Tuesday night is 2 dozen wings for $9.95, Saturday is Rack of Lamb, and Sunday is Crab legs

Rogue's Harbor Inn is located at 2079 East Shore Drive, Lansing, NY
607-533-3535

Reviewed June, 2008
Help Support
Ithaca Restaurant Review
Try Netflix for Free

The Good, The Bad & The Free Trial
www.NetflixReview.com