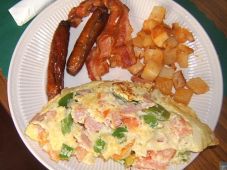 Dapper's at Ramada Inn Ithaca
Cuisine: American/Brunch
Want to take Mom out for a Sunday morning treat but don't know where to go? Ever wondered where you can feed 20 out-of-town guests without going broke? Dapper's, that's where. There are only a handful of places that serve brunch in town (Cafe Dewitt, the Lost Dog) but only one does brunch buffet style and that's Dapper's. For years we have heard about Dapper's All-Star Sunday Brunch but we have never visited partly because we didn't know where Dappers was located; Dapper's is located in the Ramada Inn, just at the main entrance to The Malls at Ithaca (formerly Pyramid Mall.) Dappers is buffet style dinning with a twist as a chef makes Omelettes to order and custom prepared Belgian waffles to go with a well stocked buffet. And I mean well stocked. So whether you prefer to call it "all you can eat" or "buffet dinning" Dappers is a place that is hard to beat at just $6.95 per person (kids under 12 are half price, under 4 eat free.) I have to admit, I had to loosen my belt a bit before I left.
The Food: 4 out of 5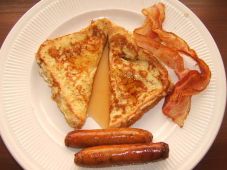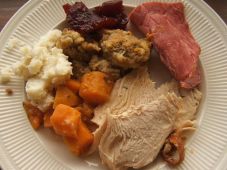 Omelettes are great: big, made to order with fresh ingredients and fast - ours took about 2 minutes.
Belgian Waffles were fluffy and easy to load with strawberries, blueberries and fresh cream.
Deep fried French Toast, I know it sounds odd but it tasted great - a must try it item. Hey it's a buffet, try everything.
Roast Turkey Breast was moist and tender, and Thanksgiving Day quality. The stuffing was fresh made and done well too. I had seconds.
Sweet tooth heaven pies, doughnuts, tarts, cake, danish - you are sure to find something you like - we did. The Experience: 4 out of 5


Laid back, friendly environment. No one rushes you out.
Generous - ask for a cup of coffee, they bring you a pot. The buffets were constantly being re-stocked with more fresh food.
Kids friendly, each one gets a balloon and there are coloring books and a box of toys for kids to play with.
Bonus: Outside dinning by the Pool.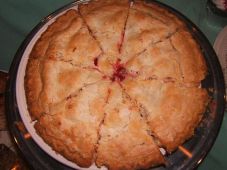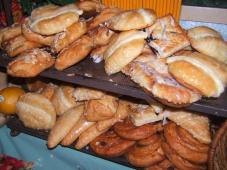 The Price: $ out of 5
Great prices, just $6.95 from 8:30 to 11:00, and $8.95 after 11:00. At 11:00 they bring out the heavy hitting meat entrees like Roast Turkey Breast, Corned Beef, a deal for just 2 more dollars.

Dapper's Restaurant is located at the Ramada Inn Ithaca, at 2310 Triphammer Road, in Ithaca, NY

Reviewed October, 2007