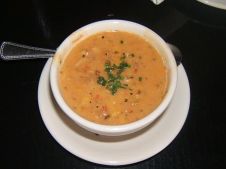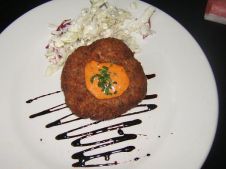 Maxie's Supper Club and Oyster Bar: Eat Great Food
Cuisine: New Orleans-style Fish House; Southern Comfort Food; Barbecue
Maxie's was the first place I dinned in Ithaca; pulling into town just past 11 pm, we found Maxie's still serving a full menu - it felt like we had arrived in a late-night dinning heaven. Sure, people can debate what is the best restaurant in town, and Maxie's belongs in that conversation; but no bones about it, past 9pm Maxie's is the best restaurant in Ithaca as they serve a full menu to 11pm (midnight on weekends). With a creative, tasty and evolving menu Maxie's is a reflection of Ithaca's culture and lifestyle. And Maxie's is also a great place to eat, no matter what time it is.
The Food: 5 out of 5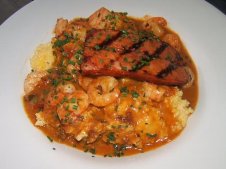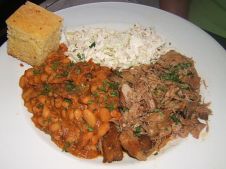 Crab Corn Chowder is meaty, smooth and silky
Crab Cakes are excellent, crisp outside, moist inside with a robust Cajun mayo
Shrimp and Grits plump shrimp explodes in your mouth; moist and firm grits have a complex nutty taste; sauce is warm, cozy and begs for dipping;flavors harmonize to make your mouth come alive. Sausage is optional. Possibly the best dish in town.
Pulled Pork generous serving off pork, be sure to get enough Mop sauce as not having enough changes taste dramatically; beans are amazing and have chunks of pork
Ribs a KC dry rub and sauce put the bite in these meaty ribs
Cornbread is sweet, light on the tongue and pleasantly moist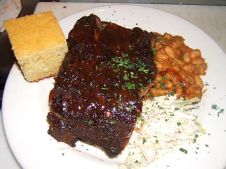 The Experience: 5 out of 5
Lively, almost festive, vibe
Mardi Gras Beads
Full Menu to 11, Midnight on weekends
Outside dining and a breeze room
Veteran wait staff who enjoy what they do; Cheyenne was great

The Price: $$$
Prices are very reasonable for the quality of food
Bottomless Corn Bread - makes any soup a meal
Bonus: Half-priced Raw Bar from 4-6
Maxie's Supper Club, is located at 635 W. State St., Ithaca, NY

Reviewed June, 2007