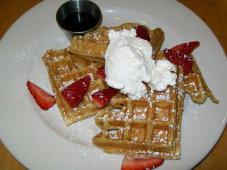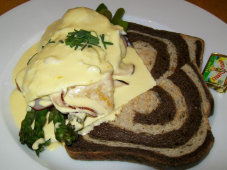 Cafe Dewitt: Special Brunch
Cuisine: Contemporary American Bistro
Tucked inside of downtown's Dewitt Mall, just a few steps beyond Moosewood, is an eclectic cafe that serves some of the tastiest and most interesting and unique breakfasts, brunches and lunches. Brunch is so good they serve it on Saturday and on Sunday. With fresh local and regional ingredients at the core, (West Haven Farm is a key supplier and the eggs are from just up the road) and a skilled chef with an ability to produce food that is subtle, refined and delicate in flavor, it is easy to understand why fans of Cafe Dewitt are so passionate and loyal. Be sure to gaze at the specials board (it is reminiscent of Spinal Tap as in "these go to 11") as you are assured of seeing new and unique specials everyday and every brunch.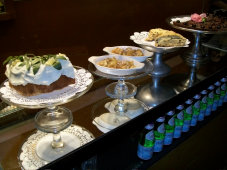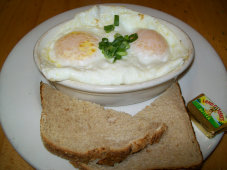 The Food:
Specials - Specials board is the showcase with up 10 or more specials each day
Eggs Venlo - poached eggs over smoked ham and al dente asparagus topped with a lively hollandaise sauce and served with the coolest looking marbled rye
Almond Waffles subtly infused with almonds and topped with fresh strawberries, cinnamon, powdered sugar and a fresh and delicate whipped cream. Severed with local maple syrup. Yum-yum-yum.
Apple Potato Sausage Hash - tart apple, regional sausage topped with cheddar and two fried eggs. When the yolk hits the tart of the apple and the sharp of the cheddar with a subtle bite of the sausage your taste buds will smile. Highly recommended.
Great Coffee - Equal Exchange's organic is the drip (and is fantastic) and Gimme! is the espresso.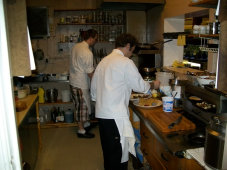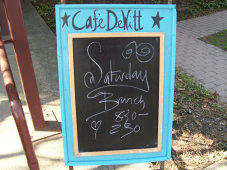 The Experience:
Groovy blue fish tanks, mirrors and high ceilings create an open and welcoming feeling
Friendly and approachable chefs and knowing and kind wait-staff
Tables can fill up fast as it is the perfect place to eat before or after the Farmers Market
Gotta wait? Hang-out in front of the kitchen to get a whiff of what's cooking while watching Josh and Jules at work
Insiders Tip: With up to 10 Specials a day, get the Specials as they are special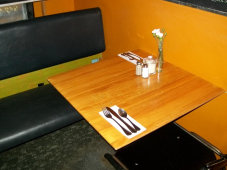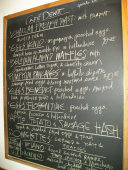 The Price:
Breakfast: $3.95 - $9.50
Brunch: $7.50 - $9.50, specials are usually $9.95
Lunch: $3.95 - $9.50, specials are usually $9.95

Cafe Dewitt is located at 215 N. Cayuga St, inside the historic Dewitt Mall, in Ithaca, NY
607-273-3473

Reviewed April, 2009


View Larger Map