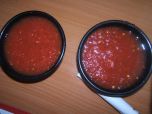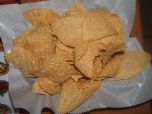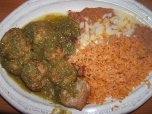 Garcia's: Simple, Good, Cheap Mexican Food
Garcia's was a pleasant surprise as the food was good, the prices were low and the chips and salsa were free. To be honest I have been back 2 more times since I reviewed it. I know there are better Mexican restaurants, but are there better Mexican restaurants in Ithaca? Not that I am aware of. So, unless you want to drive more than an hour to dine at Alto Cinco in Syracuse, Garcia's is the place for casual, inexpensive and local Mexican food.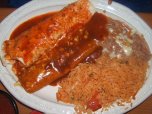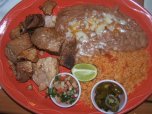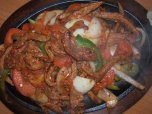 The Food: 4 out of 5
Free Chips and Salsa! The salsa was tasty and spicy and was bottomless; the chips are prepared on site from tortillas made off site; they are great chips full of crunch and perfect for dipping as they are good sized (preparing them in house allows Garcia to have really good chip quality control - Viva la chips! We had Pork Carnitas, and the generous portion of pork was tender and flavorful and worked well both in Tortilla (it comes with 3) or off the fork. We also had the Chile Verde, a lovely pork dish like the Carnitas only it is topped in a tomatillo sauce. The Carnitas was our favorite of the two. Both ways the pork mixed well with refried beans (again made in house); the beans were creamy and topped with a nice touch of melted cheese. The fajitas were good with ample toppings and sides but the beef was a bit dry so we suggest the chicken fajitas.
Warning: Plates are delivered hot, so be careful with young ones. The wait staff are on it and they reminded us 2-3 times when they brought out a hot plate.

The Experience: 3 out of 5
The old Pizza Hut/Ralph's Ribs building suits Garcia's well. The service is prompt and professional; a hostess greets you on walking on in and almost immediately a waitperson is at your table; service if fast and friendly and knowledgeable; we found their recommendations helpful in ordering. Garcia's is family friendly, as meals are ready very quickly, no long waiting for food here. Bonus: Outside dinning.

The Price: $$
I love Garcia's prices; dining here won't cost you an arm and a leg; the portions are large and the prices are low. Even the chips and salsa are free - and they give you two kinds of salsa to dip from, hot and regular - how can can you beat that?
Garcia's Mexican Restaurant is located at 344 Elmira Rd, in Ithaca, NY
Reviewed May, 2007