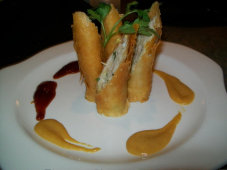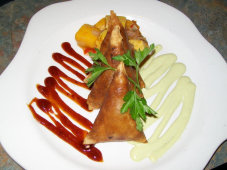 Madelines Restaurant - Ithaca's place for dessert
Cuisine: Euro-Asian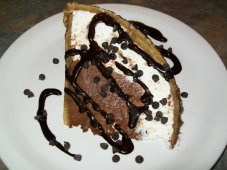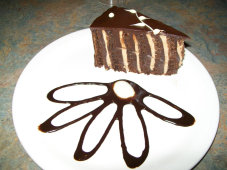 Madelines is famous for their desserts - one look at the dessert counter tells you why. The food is a wonderful fusion of East and West with a bit of Ithacan sparkle thrown in (think Nobu if they were to move to Ithaca.) The restaurant has great light, large windows, and a wonderful outside dining space. The bar is a delight for the eyes and the food a delight for the palate. Be sure to walk over to the dessert counter when ordering dessert - seeing 15-20 made-in-house selections is spectacular. The owner is a pastry chef making this the one place we order 3 desserts for two people and don't feel guilty one bit - or one bite. A little nibble on one of Madelines amazing desserts before going to bed is a sweet treat.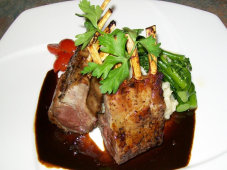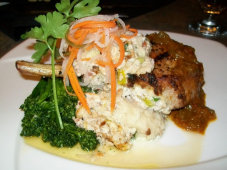 The Food:
Thai Stick - crispy outside, succulent inside, wonderful texture and taste - filled with blue crab, chicken, and corn
Beef Samosas very flavorful with a sweet almond essence and touch of heat to make the mouth awaken
Gorgonzola Pork Chop is massive and a medley of flavors. The chop is split in the center and filled with a blend of creamy gorgonzola, bacon, shallots and leeks and topped with a hoisen mirepoix demi-glaze. Ridiculously good.
Rack of Lamb a menu favorite, tender New Zealand lamb marinated with hoisen, lime and ginger, cooked perfectly and topped with a pomegranate ginger demi-glaze.
Broccolini not often does a side dish get a reference but wow was this good - delicate yet firm - everything broccoli is not and addictively good. Unforgettable. It came on both entrees and we were tickled it did.
Dessert is pretty unique at Madelines. They have two-three shelf display cases full of desserts manned by a pastry chef eager to answer your questions. Such depth and variety makes any sweet tooth a happy dessert explorer.

The Experience:
Madelines has several distinct dining areas - tables, booths, a bar, couches and a covered patio.
The bar is a fantastic place to end a date - even if you ate elsewhere - with a drink and dessert.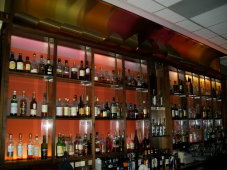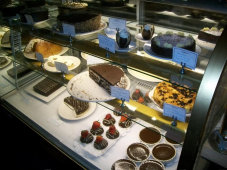 The Price:
Apps range from $5 to $9, salads from $5 to $7 and entrees from $17 to $26.

Madelines is located at 215 E State St, right at the eastern end of the Commons, in Ithaca, NY
607-277-2253

Reviewed Dec, 2009


View Larger Map