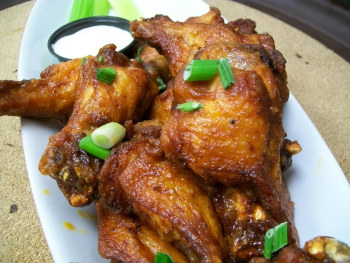 Kilpatrick's: More Than Irish Food
Cuisine: American and Irish
If you haven't been in to Kilpatricks in awhile you'll notice two things right off the bat - the menu is more extensive (before it was mostly Irish, now it is 40% Irish and 60% surprise) and the prices are lower (lots under $10, everything but surf and turf is under $20.) And amazingly the portions grew larger while still offering freebies like a house salad and fresh baked bread with each meal - you won't leave hungry. Kilpatricks has always had one of the best happy hours in town, now they have a menu to match the bar.
I love restaurants and bars that are in Hotels and Kilpatrick's is at home in the Hilton Garden Inn - your bar-mate can be from just about anywhere, allowing a local to mingle with folks visiting from Singapore, Moscow, LA and beyond. And being a hotel there is sure to be someone eating alone at the bar, both male and female. The bar area of Kilpatricks really does have personality. As does the menu and the food. The menu for the bar is the same as the restaurant, but the tables and the booths (the booths are a hot commodity and go fast) have a private and intimate feel, whereas the bar is social. The beer selection is nice, the fireplace glows in the corner and the food is hearty with large portions - making a visit to Kilpatricks comfortable and familiar.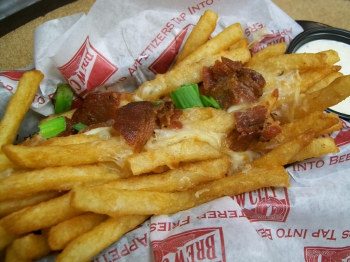 Recommendations:
Patty's Wings - fantastic jumbo wings, craftsman like in creation - these wings are seasoned, par baked, soaked in Bass Ale in for 24 hours, then deep fried and seasoned again. You can taste the effort that goes into these - meaty, complete flavor and heat, easily the most flavorful wings in town - Highly recommended - just writing about these wings makes me want to go back.
Sheppard's Pie - black Angus beef simmered with veggies and brandy - superbly satisfying and enough for two people - the moistness of the stew contrasted wonderfully with the rich texture of the mashed potatoes.
Irish Fries - beer battered fries, smoked bacon and cheese - loaded with chunks of bacon - yummy with lots of flavor. Goes great with beer and wings.
Burgers - 1/2 pound of Angus beef - the burgers are really big - the garbage burger has black and tan onion rings, munster cheese, smithwick honey BBQ sauce and lettuce and tomato and fries + your choice of sweet potato fries, beer battered fries, a salad, apple slaw or Irish chips - all are great.
Pork Tenderloin - a generous portion of seared and roasted tenderloin with a shallot and roasted red pepper sauce, was soft and tender and the sauce added a nice complexity.

Prices:

Apps: $4 - $11
Burgers and sandwiches $7 - 11
Entrees $8 - $20 - Surf and Turf is $26

Sheppard's Pie Eating Contest - an annual event at Kilpatrick's.

Kilpatrick's Publick House Menu

Kilpatrick's Publick House is located at 130 East Seneca St, Ithaca, NY
607-273-2632

Reviewed Jan, 2012


View Larger Map