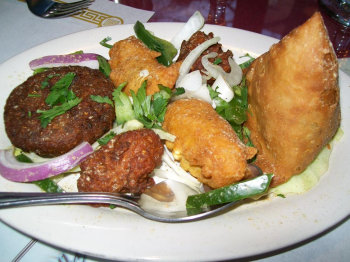 Mehak Authentic Indian Cuisine: Tandoori
Cuisine: Indian/Kashmiri
Walking into Mehak's kitchen, your nose is greeted by an array of aromas. This family run Indian restaurant is an oasis of Northern Indian cuisine complete with an authentic charcoal tandoor oven. The meat that comes from the Tandoor oven is buttery soft and pure pleasure to eat. Knowledgeable and attentive staff can help guide both novice and experienced Indian diners - Richie suggested the Mango Lassi which tasted great and also served as a palate cleanser and instant fire brigade relief.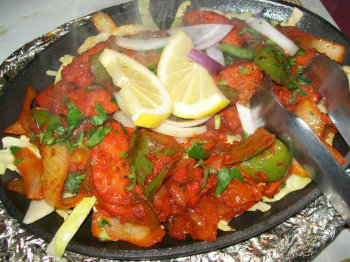 Recommendations:
Chicken Tikka - Highly recommended chicken marinated overnight in yogurt and spices then charbroiled in a Tandoor oven (see photo) - delicate, tender and moist
Veggie Combo - a diverse app than lets you sample Indian fried food like Samosa (pastry filled with spiced potato and green peas), Paneer Pakora (cottage cheese - an Indian version of cheese sticks), Aloo Tikki (potato cake battered with chickpea flour and spices) and Vegetable Pakoras (vegetable fritters.)
Kathi Kebab Chicken - charbroiled chix with vegetable was warm, satisfying and buttery soft.
Mango Sweet Lassi - Highly recommended helps tame heat and refresh the palate, can be a meal saver for those that have trouble with spice and heat - yogurt and mango shake
Lamb Rogan Josh - a Kashmir dish of lamb in a creamy yogurt sauce that was buttery soft and perfect for dipping Nan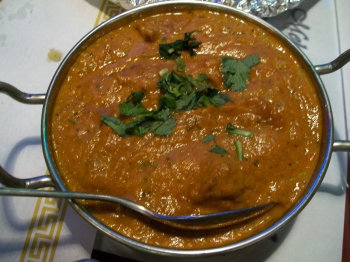 Prices:
Apps: $2.95 - $8.99 - most are $5 or less
Entrees: $8.99 - $15.99 - most are $10 to $13

Mehak Authentic Indian Cusine is located at 410 Eddy Street, Ithaca, NY
607-256-3425

Reviewed Feb, 2011