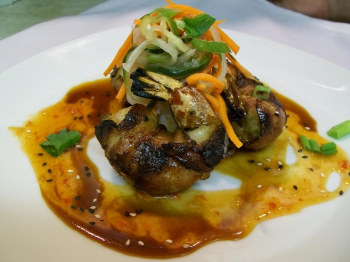 Simeon's On The Commons: Extremely Satisfying and Pleasing
Cuisine: American Bistro
If you haven't been to Simeon's in a while you are in for a wonderful dining surprise - the restaurant has been reinvented. Simeon's used to be a great bar that served food, now they are a great restaurant that still has a great bar. New owners took over in 08 and in 09 they converted Sal's Pizza into a new dining area and a new kitchen. The larger kitchen is paying huge dividends in the taste department - the food is decadently good and the menu is diverse and constantly changing. With outside dining right on the commons, an original bar from the 19th century and food that earns raves, Simeon's is an Ithaca institution and a sure-bet crowd pleaser.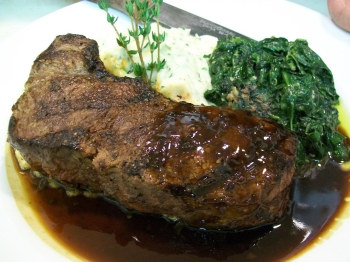 Recommendations:
Wasabi Bacon Wrapped Shrimp - Highly recommended 3 jumbo shrimp wrapped with applewood smoked bacon with a wasabi stuffing finished with a yin & yang sauce - decadent - plump shrimp with a bacon and wasabi kick
Bones - the meat is tender and falls off the bone - perfect App combo with Wasabi Shrimp
Asiago Sea Bass - Highly recommended so much flavor - best Sea Bass in town - great mix of cold and heat with a delicately tender Sea Bass
Steak of the Day - ours was a huge Prime NY Strip cooked to perfection. We've had Steak of the Day three times and each time it was wonderful - steak lovers can't miss with this dish

Prices:

Apps: $5.95 - $11.95 - most are $8.95
Sandwiches: $9.95 to $13.95
Entrees: $15.95 - $23.95, specials range from $22 to $33

Simeon's On The Commons is located at 224 E State Street, Ithaca, NY - right on the Commons
607-272-2212

Reviewed March, 2011


View Larger Map