Mahogany Grill
Cuisine: American Steak and Seafood House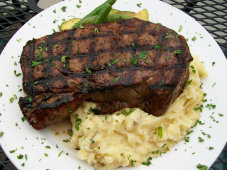 Ithaca's best steakhouse serves delectable steaks cooked to perfection.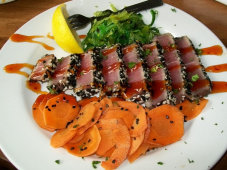 People often ask where is the place to get steaks in Ithaca? That question has been hard to answer- but no longer. Mahogany Grill is the place to go for steaks in Ithaca - the steaks are hand trimmed, grilled with care and the taste is out of this world. The oft heard expression during our meal was "this is so good". The Ribeye, or Cowboy steak, won our hearts and our palates - it is Mahogany's signature dish.
The Food:
Ribeye is fantastically good, thick, juicy and huge with a course salt rub. Mashed potatoes were full of flavor and the greens were al dente crisp. Highly recommended - best steak in town.
Filet Medallions Oscar has buttery soft filet medallions of beef topped with tasty lobster meat, tender asparagus and a divine bearnaise sauce and mashed potatoes
Shrimp and Lobster Martini has 4 extremely large and succulent shrimp that smelled fantastic with a splash of tasty lobster.
House Salad and Bread entrees come with a warm, freshly made loaf of bread that was pleasingly good and a salad with huge slices of cukes and housemade sauces - Creamy Garlic was great.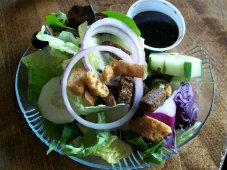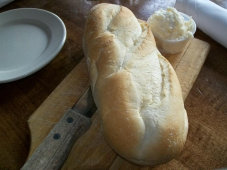 The Experience:
Rich mahogany wood throughout coupled with an antique tin ceiling create a warm, comforting atmosphere
Separate beautiful bar (one of Ithaca's best) with old time removable windows perfect for summer breezes
Large outside dining right on Ithaca's main walking strip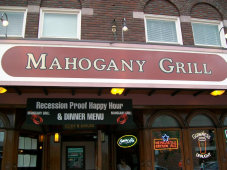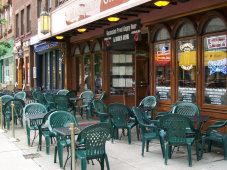 The Price:
Apps range from $7 - $15, sandwiches and salads from $9 to $14, entrees from $18 - $26
Entrees come with house salad and house bread
Apps are half priced in bar from 4-7 and from 9-midnight, 7 days a week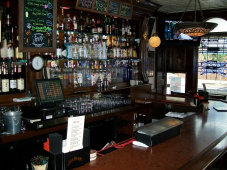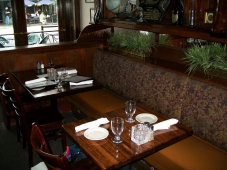 Mahogany Grill is located at 112 N Aurora St, in Ithaca, NY
607-272-1438

Reviewed June, 2009


View Larger Map