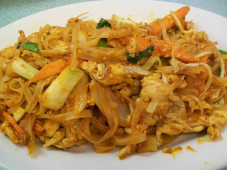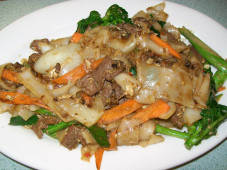 Sticky Rice
Cuisine: Thai and Laotian
Sticky Rice is tucked behind Gateway Plaza (where Domino's and Napoli pizza are) making it a bit hard to find. The quality of food and the prices make Sticky Rice worth the effort. With just 4 tables (they fill up fast), most people get take-out or delivery. But eating at Sticky Rice can be an enjoyable, albeit low-key, experience; since the food doesn't sit around for an extra 10-20 minutes, it tastes even better. The prices are low, the veggies and meat portions are generous and the spicy-ness is easily dialed into to your own personal heat-meter. The Tom Yum soup is arguably the best in town and is a must order at $3.95. In this review, we just tried the Thai food - we'll be back again to sample the Laotian and Sticky Rice side of the menu soon.
The Food:
Pad Thai Chicken Stir-fried flat rice noodles with tamarind sauce, garlic, onion, chives, fresh bean sprouts, tofu kan, ground roasted peanuts - the peanut flavor is subtle, not overwhelming, allowing you to taste the veggies and the tender chicken
Beef Pad See Eaw stir-fry rice noodle sheets, beef and Chinese broccoli with Thai soy sauce - the beef and veggies are plentiful and the noodles are soft and yummy, but the dish is missing a zest of sweetness.
Chicken Tom Yum Soup is just delicious, sweet and savory, a Lemongrass and Galangal soup base, mixed Chinese vegetables, straw mushrooms and slices of white mushroom in a vegetable broth - highly recommended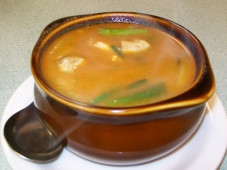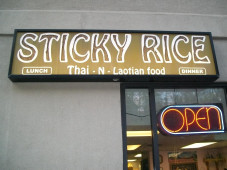 The Experience:
Sticky Rice's dining area is small, just 4 tables, so while a bit cramped it does have a positive feel
The food is fresher, hotter and better if eaten in the restaurant than waiting for take-out or delivery
Eating here always feels a bit like you are in on a great secret

The Price:

Sticky Rice is inexpensive and a good value for the dollar
Apps, salads and soups range from $2.95 to $5.95, entrees from $9.75 to $14.95 - most are $10-$11

Sticky Rice is located at 401 E State St, Ithaca, NY
607-275-3641

Reviewed April, 2010


View Larger Map