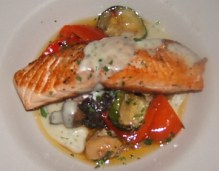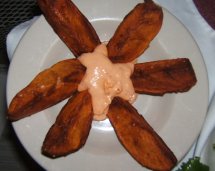 Just a Taste: Wine and Tapas Bar
Cuisine: Spanish Tapas
Tapas, or finger food in Spain, is small portions of food ideal for nibbling. In the States, a Tapas selection usually equates with lots of appetizer on a menu, but not at Just a Taste - here they serve Tapas with the intent to awaken your sense of taste by encouraging you to try many different flavors during a meal. The menu has a nice emphasis on local foods using West Haven, Stick and Stone, and Sabol Farms. Tapas, done in the Spanish tradition, made in a local kitchen with local food coupled with a dynamic wine list. But those are just words unless the food tastes good, and man does it ever; our favorites were the sauces on each dish, the sauces add the zing. The key with Tapas to extending the pleasure of the taste is to order bread with your meal as the bread allows you to dip and soak up the sauces long after the tapas is gone (the Housemade Focaccia could be the best in the state). Add a glass of wine from the ever changing wine list and you can dip, sip and repeat all night.
The Food: 5 out of 5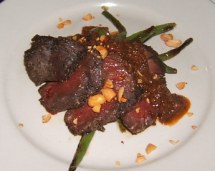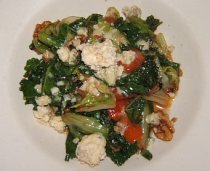 Tortilla Espanola (not pictured) is the staple of Tapas; a generous slice of baked egg, potatoes and onion is simple and wonderful; the mixed green salad with a hint of sweet within the balsamic vinaigrette makes this dish a light meal for one.
Salmon: crisp on the outside, tender, moist and cooked to perfection on the inside. This dish was consumed the fastest at our table - highly recommended.
Deep Fried Potato Wedges with Chipotle Aioli make your mouth come alive with flavor a must order item.
Smoked Hanger Steak is a real taste trip, super tender with complimentary warm and deep smoke tones.
Warm Chocolate Souffle, moist, rich, and decadent; a real gem.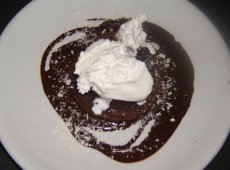 The Experience: 5 out of 5
Intimate setting filled with conversation and leisurely eating.
First time eating tapas? The friendly wait staff are perfect guides on how to order.
On a diet? You found a place with perfectly guilt-free portions.
People vote with their feet and every night, every table was taken.
While casual and laid back, the tightness of the setting can make bringing a small child a grind.

The Price: $$$ out of 5


Tapas start at $3.00 and top out at $9.00 - most are around $6.00.
Dinner for 2 with wine was about $40.
The variety of tastes and flavors for the dollar is astounding.

Just a Taste
116 N. Aurora St., Ithaca, NY
607-277-9463

Reviewed January, 2008