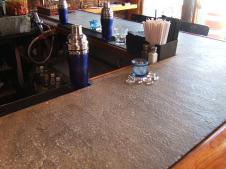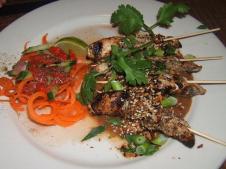 Blue Stone Bar & Grill: Elegant Comfort Food
Cuisine: Contemporary American
If a restaurant is only as good as the chef cooking the food then the Blue Stone on Aurora street is in pretty good hands. Each dining experience at the Blue Stone has been satisfying; the food is consistently good. The reason? There is only one chef - the owner Doug Gruen. All meals are prepared by Chef Doug, ensuring quality. Since there is only chef, Blue Stone is only open 5 days a week - a fair trade-off once you taste the food. With a well thought out menu that uses the freshest and best ingredients Doug can find, the Blue Stone is a wonderful excursion into elegant comfort food.
The Food: 5 out of 5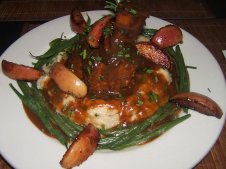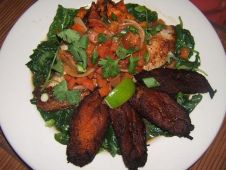 Grilled Thai Chicken Skewers were a big hit, peanut sauce was a home run with its warm overtones and full-bodied peanut taste, chix was moist and dappled with sesame seeds. The colorful asian salad accompaniment makes this appetizer almost a meal.
Braised Pork Shank was the winning dish, everyone at the table wanted more, the pork was melt in your mouth tender and falls off the bone with just a fork, mashed potatoes were feathery fluffy and light, the two together on the same fork were a perfect pair. Sauteed apples and baby green beans round out the dish. Highly Recommended.
The Burger of fresh Black Angus was cooked to perfection by the chef; want a burger done right, come to the Blue Stone.
Jamaican Jerk Catfish the fish's spice was wonderfully tempered by the cilantro lime reduction. The fried plantains are sweet and the best I have had since leaving Ecuador 10 years ago.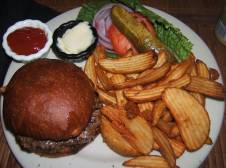 The Experience: 4 out of 5
Beautiful Blue Stone Bar; great for bar dining
Even when the restaurant is full, the place is not loud
New York New Age Decor is pleasing and organic in feel

The Price: $$


Very Reasonable Prices
Sandwich menu is a great deal
Prices so good you can eat here every week

Blue Stone Bar & Grill is located at 110 N. Aurora St, Ithaca, NY

Reviewed August, 2007