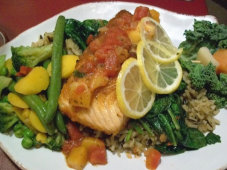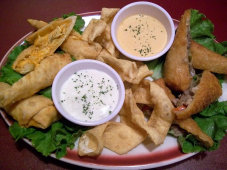 Stella's Barn - Comfort Food with a Twist
Cuisine: American Comfort Food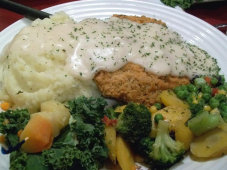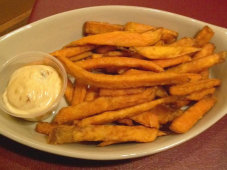 Stella's Barn in Newfield serves hearty comfort food with a twist; the twist is found in the specials and unique items on the menu, all of which add adventure and pizazz to a delightful menu of classic country comfort food. At Stella's Barn specials like Mango Salmon, Lemon Caper Mahi Mahi and Chilean Sea Bass are served side by side with homemade Meatloaf and Chicken Fried Steak. The owner Terry is the source of the flamboyance and flair on the menu, the twists (and recipes) are her own creations based upon years in the restaurant industry. Terry wanted to create a haven, a place where both she and her guests could happily spend a day - she has more than succeeded. Stella's is easily worth the 8 minute drive from Ithaca as the food is lively, the portions are large and the prices are light.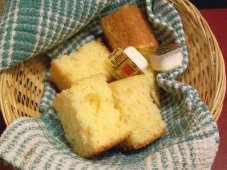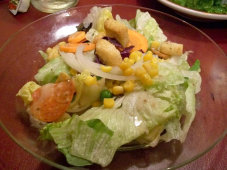 The Food:
Mango Salmon pan seared wild salmon was buttery soft and moist - with wild rice, baby spinach and mango salsa
Country Fried Steak - Angus beef, breaded and fried expertly, with garlic smashed potatoes and a pepper gravy
Buffalo Chicken Rolls - Philly Cheese Steak Rolls a decadent dish that wowed us - 2 types of rolls made from lightly fried egg roll wraps. One is spicy red hot chicken with a blue cheese dipping sauce, the other is steak, peppers and onions with zinger of a Texas Petal sauce. Both perfect for dipping and double dipping highly recommended
Sweet Potato Fries we got just a side, so the appetizer is even bigger - a must get, with a secret chipotle house sauce
Corn Bread is sweet, moist, very good and served free with every meal

The Experience:
Barn? On the outside maybe but inside the building is new, warm, completely modern and full of charm
Very Green: the wood used to build the barn was harvested and milled right on the land
Stella's Barn has a separate bar that is lively and inviting with a large LCD TV perfect for grabbing a beer, watching a game and dipping the decadently yummy rolls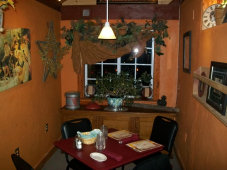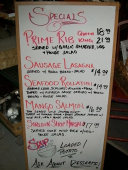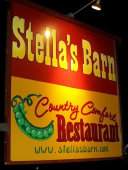 The Price:
Stella's Barn has generous portions at very low prices
Apps range from $6 to $9, entrees from $9 to $17, steaks from $17 to $26
Free and fantastic Corn Bread, all entrees include a house salad

Stella's Barn is located at 1346 Elmira Road, Newfield, NY
607-564-9031

Reviewed March, 2010


View Larger Map